Wednesday, January 16, 2013
our morning via a little video :)
happy hump day!
Posted by

Megan
at 9:17 AM
1 comment:

Friday, November 2, 2012
After looking at my instagram from the past week I have come to a few conclusions:
1. Apparently all Kinsley does is stand.
And 2. All Kyleigh does is sleep.
And 3. All Kayla does is make an appearance or two a week since she started school.
4. Kayla does take some pretty good pictures of Walruses.
5. Kinsley still has some crazy hair.
6. Kinsley is a very messy eater.
7. If you give Kayla a permanent marker and a target toy catalog and ask her to circle what she wants for her birthday and Christmas, she circles everything.
And even though this isn't an instagram conclusion...I've concluded that I sound very southern on this video. Why? I don't know. Because I don't think I sound like this in "real" life. If I do please don't tell me. :)
Happy Friday Friends!
Posted by

Megan
at 7:39 AM
6 comments:

Monday, August 13, 2012
It's been awhile since I linked up with miscellany monday. And when I say awhile, I mean it's been forever.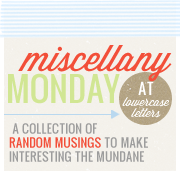 One. I wrote a
post
last week about miss Kinsley turning 9 months. I wrote that I was a little sad. A little sad was an understatement. I cried. My stomach was in knots because it hurt so bad she's growing up. A little dramatic? Yeah. But I know we'll never have another baby. And I don't even want one. I just want her to stay little.
Two. Kayla's new room is coming together. I still need to hang curtains and wall decor. But whenever I walk by it I smile. And when you tuck her in a night she tells you, "you can say goodnight princess." And then sometimes she'll say, "one day my prince will come." I think the canopy went to her head.
Three. My mom came for a visit and took Kayla school shopping. Kayla is determined to have a say in what she wears. Sometimes I like it, sometimes I don't. But as long as it's clean and nice, I figure what the heck.
She also picked out her book bag. We tried to talk her into something else. Let's just say...I'm not all that excited about it. Lol.
Four. Kyleigh has been sick on and off for the last couple of weeks. The other day she was a little too quiet and when I went to look for her this is how I found her.
Luckily she is better and back to her normal silly self.
Five. I just love this picture.
Six. Kinsley's 9 month video.
Happy Monday!
Posted by

Megan
at 5:28 AM
3 comments:

Thursday, May 10, 2012
Today at 3:10 pm my precious baby girl will be 6 months. And with each passing day I fall deeper inlove with her. Her hair sticks up just the right amount. Her little belly is the perfect amount of roundness. And her eyelashes curl just enough and her eyes speak to you. They are still a blue I've never seen before and her lips are still perfectly shaped and the prettiest shade of pink I've ever seen. Have I mentioned how deeply inlove I am with this little girl?
She's the one I didn't know I wanted. The one who brings the calmness to this sometimes hetic house. The one to complete our family. I finally feel like noone is missing.
Kinsley, my precious girl, you have brought such joy to our life, to my life these past 6 months. How has it been half a year already? I feel like we just brought you home from the hospital. And you were peacefully sleeping in my arms. Now, you're rolling and trying to sit up. You like to play and laugh. You are ticklish and eat your hands nonstop. You watch me from across the room and never take your eyes off me. You make funny faces and blow raspberries. You grab onto my shirt when I hold you and never let go. You love your blankets and rub your eyes when your tired. Your favorite toy is a zebra and you stare out the window while in the car.
I could try to explain in detail how much I love you, but for now I'll just show you.
Love you always and forever,
Mommy
Happy 6 months babygirl. We love you so much.
Posted by

Megan
at 9:22 AM
No comments: