It's been awhile since I linked up with miscellany monday. And when I say awhile, I mean it's been forever.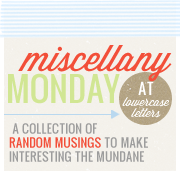 One. I wrote a
post
last week about miss Kinsley turning 9 months. I wrote that I was a little sad. A little sad was an understatement. I cried. My stomach was in knots because it hurt so bad she's growing up. A little dramatic? Yeah. But I know we'll never have another baby. And I don't even want one. I just want her to stay little.
Two. Kayla's new room is coming together. I still need to hang curtains and wall decor. But whenever I walk by it I smile. And when you tuck her in a night she tells you, "you can say goodnight princess." And then sometimes she'll say, "one day my prince will come." I think the canopy went to her head.
Three. My mom came for a visit and took Kayla school shopping. Kayla is determined to have a say in what she wears. Sometimes I like it, sometimes I don't. But as long as it's clean and nice, I figure what the heck.
She also picked out her book bag. We tried to talk her into something else. Let's just say...I'm not all that excited about it. Lol.
Four. Kyleigh has been sick on and off for the last couple of weeks. The other day she was a little too quiet and when I went to look for her this is how I found her.
Luckily she is better and back to her normal silly self.
Five. I just love this picture.
Six. Kinsley's 9 month video.
Happy Monday!